12 Explicit Hot Scenes From Game Of Thrones That Shocked Everyone
Game of Thrones is a show that has taken the world by storm with its hot scenes. The 7th season is scheduled to premiere on 16th, July 2017. The viewers, till now, got to see a fair share of rape, orgies, gays, lesbians and some romantic love and this is the reason why people are all tensed up and are desperately waiting to witness swords, pork swords, tits, and torture. The show consists of $3x and violence, which is very smartly combined with some highly disturbing scenes, that has captivated the audience worldwide. In spite of being a TV series, it has managed to play it's nudity cards wisely. A wise man once said '$3x sells' and that's exactly what Game of Thrones is doing, being a carnival of $3x, nudity and super hot scenes.
So let's take a peek at the most explicit hot scenes from Game of Thrones previous 6 seasons, that got everyone talking.
1. Cersei and Jaime Have Tower Twincest
This was one of the most controversial scenes showing a consensual $3x scene between siblings Cersei and Jaime Lannister, the brother/sister lovers. The shocking part was when Jaime ruthlessly pushes Bran off the tower, for witnessing both of them making love.
2. Daenerys Targaryen and her handmaiden Doreah
Doreah was bought as a wedding gift for Daenerys by her brother Viserys Targaryen, to serve as a handmaid. Daenerys finds difficult to adjust with her new marriage, she then asks Doreah to teach her how to please her husband.  One of the hottest scenes on the show.
via
3. Oberyn Martell. the Prince
He was commonly referred to as Red Viper of the Dome. His $3xuality was very admirable since he never followed society's rules and he was never choosy when it came to his lovers, as long as both were beautiful. The most amazing hot scene is the orgy with prostitute Olyvar.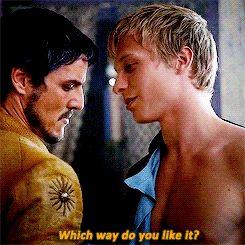 4. Khal Drago and Daenerys
Daenerys gets brutally raped by her new husband, Drago. Then there is this hot scene where Daenerys insists that Drogo look at her face as they make love, and for the first time, both seem to enjoy it. One of the first $3x scene that was romantic.
5. Melisandre and Stannis 
Stannis Baratheon and Melisandre the red demon witch's table $3x scene was absolutely hot after which the crazy shadow creature gets conceived, with the world's scariest baby.
6. Renly Baratheon and Loras Tyrell
Renly who is technically married to Margaery, who happens to be Loras's sister, with whom Renly is having a secret love affair too. The hot scene between these two hot guys doing hot things in a tent was just WTF.
7. Missandei and Greyworm
The scene where Greyworm emerges from the sea and takes a peep at Misandei's nude body, who happens to be bathing in the brook. One of the best nude scenes in the show depicted very elegantly.
8. Margaery with Tommen
Poor innocent Tommen had no chance against this man-eater of a woman. Margaery's use of the cat to seduce the virgin King is beyond strange to watch. It was an absolute tease, though she leaves him alone in the dark.
9. Shae and Tyrion 
Tyrion's love affair with Shae really tugged at our heartstrings. All of their encounters were sexy, sweet, and dynamic. Especially the scene where Shae tries to seduce Tyrion.
10. Theon Greyjoy and Prostitute
The hot scene between Theon and the prostitute Ros.
11. Ygritte and Jon Snow 
They played one of the really hot scenes of the series. Their steamy bathing scene in the middle of the Arctic North Jon and Ygritte, where they consummate their affair.
12. Viserys and Doreah
The very sensual scene where Doreah bangs Viserys in a bathtub.
via
The porn industry has the most beautiful and gorgeous looking women. Right now there are plenty of the most hottest female porn stars than before. We bring you some of the hottest female porn stars who are getting the maximum exposure and owning 2017.
Porn stars often quit the industry and sometimes vanish due to the physical strain of grueling scenes, personal problems, or the desire to start a new life, leaving fans wondering what happened. Many "retire," only to come back a few months later.
also, read Confession Of Porn Stars Who Tell The Truth About Life In The Porn Industry
We have compiled 30 of the hottest female porn stars owning 2017. Check it out!
1. Ava Taylor (22)
She has worked with top brands in the industry such as Reality Kings, she joined the industry after hitting the legal age of 18. She is one of the hottest female porn stars owning 2017.
2. Dillion Harper (24)
One of the hottest young porn stars of 2017. The 24-year-old porn star studied dental care. She said she never imagined herself becoming a porn star. In 2012, she entered the adult industry as a nude model. Slowly, she began acting in adult films.
3. Karla Kush (26)
Karla was born in "the city of sin" Las Vegas, Nevada on January the 19th, 1991. Her first shoot was in 2013 for Team Skeet and after that, she's worked with the top banners.
4. Romi Rain (29)
She came from a family where sex was never a taboo, she got attention because she was the girl with the large breasts. She worked a hostess at a steakhouse and when she was 24 she started with girl/girl and has done several films for Naughty America and Brazzers.
5. Shyla Jennings (28)
She is a writer and loves the ladies as much as she loves her job and was crowned 2014 & 2016 AVN All Girl Performer of the Year. If you love girl/girl action, then catch the lovely Shyla in action, surely you're bound to have a happy ending.
6. Brooklyn Chase (32)
She worked as a manager before getting into the porn industry in 2012. She started working with all the notable companies and filmed plenty of hardcore sex, lesbian, threesome, anal, interracial, masturbation and striptease scenes. Famous for her boobs.
7. Whitney Westgate (23)
Whitney's first job was as a lifeguard at a pool club and joined the adult entertainment industry in 2012 shortly after turning 18 and has since worked with the top companies and has appeared in explicit hardcore movies.
8. Kelsi Monroe (23)
Monroe was discovered by a porn industry agent while shopping for yoga shorts at a Walmart retail store and first began performing in explicit hardcore films in her late teens in 2013.
9. Abigail Mac (29)
She's a buxom girl and had started out in the adult entertainment industry as a webcam girl. She also directed her first hardcore movie in 2015 and was nominated for an AVN Award for Best Girl/Girl Sex Scene that same year.
10. Dakota Skye (23)
She's very cute, blonde and tiny having a 5 feet height only. She worked in the Walmart outlet before she joined the porn industry in 2013. She is one of the hottest female porn stars owning 2017.
11. Alina Li (24)
She was born in Shanghai, China and stepped into the adult entertainment industry two months after graduating from high school. She is the only Asian hottest female porn stars owning 2017.
12. Adriana Chechik (25)
This lovely, slender, long-haired and green-eyed stunner began performing in explicit hardcore movies in 2013. She is currently one of the hottest female porn stars owning 2017.
13. Gianna Nicole (22)
She was born in Tampa, Florida and is of Italian descent, she got her fame from growing her Instagram account all the way up to 7 Million followers, and entered the industry in 2014.
14. Scarlet Red (25)
Red grew up as a mountain girl in the Aspen and Vail area of Colorado and played both soccer and volleyball. She joined the porn industry at age twenty-one in August 2013.
15. Stoya (31)
She rose to fame between 2007 and 2009, comes from a highly-educated family and her interest towards pornography started in her teen years when she used to watch a lot of it, this habit led to her becoming one of the serious and professional porn stars.
16. Kayla Kaden (32)
She used to work as a stripper before starting her career in the porn biz with Vivid video in 2006. She was named Penthouse Pet of the Month for September 2008. She is one of the hottest female porn stars owning 2017.
17. April O'Neil (30)
She worked as a receptionist and joined the porn showbiz in 2009. She became a big sensation with her natural breasts., in 2013 she became one of the sixteen actresses profiled in Deborah Anderson's documentary film Aroused.
18. Staci Carr (25)
She started as a webcam model. At first, she only filmed girl/girl scenes and now she is filming hardcore and diverse scenes and now she is one of the hottest female porn stars owning 2017.
19. Allie Haze (28)
She became popular acting in numerous 'teen porn' movies when she was 22 years old. She has acted in 343 porn movies to date. She married a religious preacher when she was 18. She divorced him a couple of years later and entered the porn industry.
20. August Ames (23)
She is a young newcomer in the industry and the hottest Canadian, who conquered everything and everyone. she almost has 150 scenes in her portfolio.
21. Eva Lovia (28)
Her mother had featured in Playboy back in the days, hence, she felt comfortable to take the step into the adult entertainment. The lady who had the honor to take Eva's lesbian virginity is Molly Cavalli, a Reality King legend herself.
22. Janice Griffith (22)
This slim girl entered porn industry in 2013, about 2 months after she turned 18. She followed James Deen (one of the most famous male porn stars, director, and a producer) on Twitter and one fine day she got a call from him. The rest is history.
23. Peta Jensen (24)
Before becoming a porn actress, she watched very little of it in her personal life. She called her experience in porn "awesome" after she joined the industry in 2014.
24. Aidra Fox (22)
Aidra grew up in the country side and started as a webcam girl when her agent, convinced her to do porn and after several hours, she decided. She is involved in anything that's sexual and has created a big name for herself in her short career so far.
25. Carter Cruise (26)
She has done psychology and has worked as a lifeguard and Hooters girl. She joined the business in August 2013, and her natural talent led her to work with huge companies instantly. She says she loves getting in front of the camera and just having great sex.
26. Abella Danger (22)
Abella is now one of the hottest newcomers in the world of porn. She joined the adult film industry with BangBros in July 2014. She simply adores her acting career.
27. Lexi Belle (28)
She made her porn industry debut when she was just 18, with a very troubled childhood. She has acted in over 595 porn movies
28. Sophie Dee (33)
Sophie is one of the most adorable porn stars of the world with the face of an angel. She has 520+ movies to her credit. She has won three awards and was nominated many times and still in demand.
29. Bree Daniels (26)
Daniels briefly worked as a cashier and a dancer, when she started her career in the adult entertainment industry as a webcam model, where she was contacted through her online profile and started doing hardcore movies in 2010.
30. Dani Daniels (26)
She's currently a highly successful and sought out porn star and has already acted in more than 400 films and directed six movies. A professional stripper and webcam model before becoming a pornstar. She's an athlete, painter, writer, and social activist, very multi-talented.